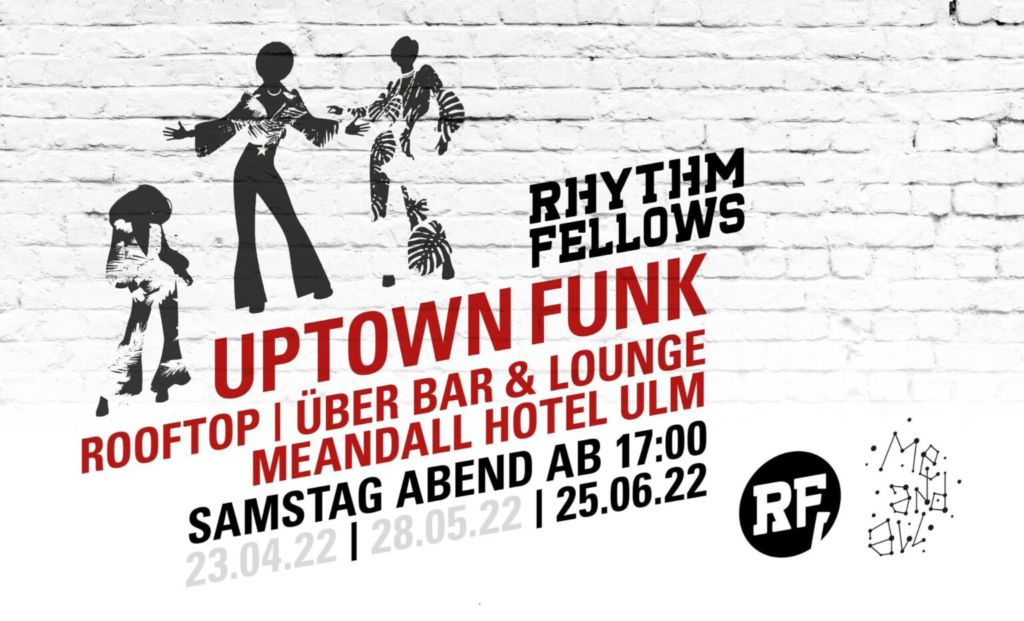 RhythmFellows – UPTOWN FUNK [25.6.22]
Juni 25, 2022
Uhrzeit
18:30 Uhr – 23:30 Uhr
Adresse
me and all hotels ulm, Bahnhofplatz 7, 89073 Ulm
UPTOWN FUNK
Juni 25, 2022
UPTOWN FUNK | ROOFTOP | ÜBER BAR & LOUNGE
NU FUNK'N SOUL MEET CLASSIC BLACK MUSIC
It's Spring again. Und wir blühen ebenfalls auf. Am letzten Samstag im Monat stauben wir unsere Funk & Soul Platten ab, und bringen euch Funky Grooves und Disco Vibes.
GET DOWN ON ULMS HIGHEST DJ SPOT
Gemeinsam mit unseren Freunden der me and all hotels ulm und einer funky Playlist freuen wir uns auf diese besonderen Termine mit euch. Seid Ihr dabei?
Am 25. Juni wird ganz im Zeichen von "old but gold" unser DJ Under Ground alle Crate Digger Herzen höher schlagen lassen. Funk & Soul Breaks and Beats at it's best. Das wird ein Funk Fest.
RHYTHM FELLOWS x me and all hotels ulm ♥ ÜBER BAR & LOUNGE

Mehr Infos hier: https://ulm.meandallhotels.com/events/event/rhythm-fellows-lets-get-together-1-1.html